Don't you just hate it when you are at a networking event and the person you are meeting for the first time gives you the long version of a short story about who they are and what they do? At the same time, the person you really wanted to connect with is walking out the front door. Have you encountered people like this? Better yet, are you that person?
In case you are an habitual offender of the 30-second rule, here are a few tips to put you on the right side of making meaningful connections when networking. You have all heard of the "30-second commercial" or the infamous "elevator pitch". In each case, you have a limited amount of time to gain the other person's interest and give them an opportunity to decide if they want to learn more and take the next logical step with you.
Here is what a colleague of mine and I discovered we were doing wrong at a speed networking session we attended last month. Our message was inconsistent. We tried to adapt our message to the person we were speaking to. Every time the person changed, our story changed. To avoid doing this next time, here are 7 things we learned that I would like to share with you:
1. Your message should be clear, concise and attractive.
2. State who you are by giving your name, your company's name, and the position you hold. This lends credibility.
3. State what you do or what your company does.
4. Describe who specifically you serve. This should be your target or niche market.
5. Describe the problem you solve for people. How do you directly benefit your customers/clients/employer?
6. What is your USP (unique selling proposition)? What makes you different?
7. What is your call to action? What would you like them to do next? For example, you may say "Give me your card...Give me a call...Visit my website..., etc."
My colleague and I followed these tips, and here is a sample of what I now use when asked to introduce myself at networking events. I'll let you be the judge of whether I made the cut in your book.
Here goes:
Hi. My name is Lisa Howze. I am a certified public accountant (CPA) who has reinvented herself as America's Possibility Champion (APC). As the principal speaker and trainer for Speaking Life Principles, Inc., I am committed to people producing positive results in both their personal and professional lives. I share a belief that our lives are a mirror reflection of two things - our thoughts and our conversation. As a result, "We Live What We Speak".
Accounting firms, accounting professionals and accounting students have benefited most from my presentations. If you or someone you know can benefit from working with me, then please give me your card. I will follow up to see what unique opportunities we can explore together.
Let me know what you think by launching the attached survey at: Launch 30-Second Feedback Survey. Best of all, have fun creating your own 30-second commercial.
Good luck with all your future networking!
Regards,
Lisa
_______________________________________________
About Speaking Life Principles, Inc.
Speaking Life Principles, Inc. (SLPI) is a motivation, training, and development company established by Lisa Howze in 2007. Whether the subject is leadership, personal development, student development, time management, or financial empowerment, the company's motto is "We Live What We Speak."
Lisa Howze, a CPA by profession, is the recipient of the National Association of Black Accountants, Inc. (NABA) 2007 "Walking the Road Less Traveled" National Award. The award served as the catalyst for Ms. Howze's 2008 National Speaking Tour. The tour to created a whirlwind of win-win opportunities for her listening audiences, conference organizers, and corporations who benefited from Howze's direct connection to individuals in their target markets of interest.
To learn more about Ms. Howze and the training and development programs offered through SLPI, visit
www.LisaHowze.com/presskit.pdf.
To book Lisa or sponsor presentations in 2009, contact Ms. Shirley Corder-Tatum, Director of Communications and Corporate Relations, at sctatum@lisahowze.com or directly at 313.300.5372.
For more information on NABA and its national programs, visit
www.nabainc.org.
Avoid the CPE Credit Crunch!
Next Course:
Time Management: The Balancing Act
Last Month's Course:
Powerful Women Communicate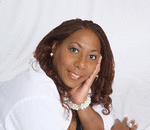 Posted By: Venus Mason Theus
Monday, November 17th 2008 at 7:44AM
You can also
click here to view all posts by this author...