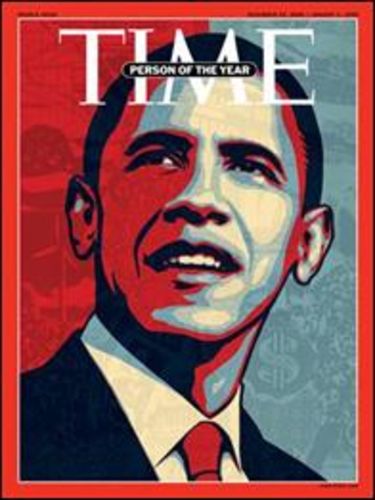 First Black U.S. president trumps Clinton, Palin, Paulson, Phelps and others
TIME's cover portrait of Barack Obama was done by street artist Shepard Fairey. Fairey's early poster of then-Sen. Obama became a populist image during the campaign.
Could TIME magazine's 2008 Person of the Year have been anyone other than President-elect Barack Obama?
Maybe not. But what the much-anticipated announcement lacks in the surprise department is offset by Obama's already undeniable place in history.
The decision to name the United States' first black president Person of the Year — announced exclusively on TODAY on Wednesday — followed weeks of discussion and debate among TIME editors and staff members. In a year when the economy imploded before our eyes, could U.S. Treasury Secretary Henry Paulson have made a provocative choice? How about Hillary Clinton or Sarah Palin, two women who captivated the nation over much of the past year and who both, in their own ways, came so close to the presidency themselves?
Those people were considered, too, as were comedian Tina Fey, Olympian Michael Phelps, Iraqi Prime Minister Nouri al-Maliki, oil executive and renewable energy proponent T. Boone Pickens, French President Nicolas Sarkozy, Georgian President Mikheil Saakashvili and Zhang Yimou, director of the Beijing Olympics' opening and closing ceremonies.
But in the end, the 44th president of the United States proved to be the irresistible choice.
"I don't think that Americans want hubris from their next president," Obama told TIME for the Person of the Year issue, which appears online today and on newsstands Friday. "[But] I do think that we received a strong mandate for change. And I know that people have said, 'Well, what does this change mean?' … It means a government that is not ideologically driven. It means a government that is competent. It means a government, most importantly, that is focused day in, day out on the needs and struggles, the hopes and dreams of ordinary people."
In the same interview, Obama addressed people's fears over the state of the economy.
"If we make some good choices, I'm confident that we can limit some of the damage in 2009, and that in 2010 we can start seeing an upward trajectory on the economy," he said.
A title, not an honor
The Person of the Year issue features 26 never-before-seen photographs of Obama that were taken when he was a student at Occidental College. Obama's fellow student Lisa Black, who took the photos back in 1980, just discovered the negatives in her basement this year and stashed them in a safe-deposit box. The candid images show Obama posing, relaxing and holding a cigarette.
The magazine also includes profiles of the four contenders who came the closest to unseating Obama as Person of the Year: Paulson, Sarkozy, Palin and Zhang. (Sarkozy's profile is written by former British Prime Minister Tony Blair, and Zhang's is written by Steven Spielberg.)
TIME editors stress that being named Person of the Year is not an honor. In fact, their definition of the designation goes like this: "The person or persons who most affected the news and our lives, for good or for ill, and embodied what was important about the year, for better or for worse."
The magazine has been highlighting a significant person — or, in some cases, a significant group of people — every year since 1927, when the distinction went to Charles Lindbergh, the first person to fly solo across the Atlantic.
"It began with the editors feeling that they had missed the historic story of Charles Lindbergh, and they thought, 'Why don't we put Charles Lindbergh on the cover and name him Man of the Year?' " said Jim Kelly, managing editor of TIME Inc.
In the decades that followed, the designation has gone to world leaders, philanthropists, villains and visionaries, running the gamut from Gandhi to Gorbachev to Hitler. Analyzing the list is like taking a short course in modern history.
A number of people have been featured on the list twice: Joseph Stalin (1939, 1942); Winston Churchill (1940, 1949); Gen. George Marshall (1943, 1947); Dwight Eisenhower (1944, 1959); Harry S. Truman (1945, 1948); Lyndon Johnson (1964, 1967); Richard Nixon (1971, 1972); Ronald Reagan (1980, 1983); Mikhail Gorbachev (1987, 1989); Bill Clinton (1992, 1998); and George W. Bush (2000, 2004). Only one person has been named three times: Franklin D. Roosevelt in 1932, 1934 and 1941.
Expected — and unexpected — choices
Sometimes readers have found the Person of the Year choice to be highly controversial. When the magazine picked Ayatollah Khomeini in 1979, thousands canceled their subscriptions to the magazine. Another choice that sparked plenty of buzz in 2006 was "You," a nod to the explosion of social networking and collective intelligence made possible because of the Internet.
"Part of the challenge of Person of the Year is to do something that is a little bit surprising," said Richard Stengel, managing editor of TIME magazine. "There's also the challenge of how you present something that they know already in a new way."
This year, of course, it was especially difficult to be surprising — but what continues to fascinate people is the improbable and meteoric ascension of Obama himself. Still a first-term U.S. senator mere weeks ago, Obama ran a smart and disciplined campaign centered on a message of hope and change. His election to the presidency on Nov. 4 prompted celebrations in the streets across the country and in cities around the world.
At a recent TIME luncheon where potential Person of the Year candidates were debated, U.S. Congressman Artur Davis (D-Ala.) talked about Obama's place in history.
"Go back five years ago — 2003," Davis said. "If you had asked the question, 'Can you conceive of an African-American being elected president of the United States in 2008?' that would have struck every single person in this room as the most ridiculous kind of fantasy. Well, here he is."
At the same luncheon, NBC Nightly News anchor Brian Williams called Obama "the game changer and the history maker," adding, "I think we have but one choice."
Posted By: Minister Celeste Kelley
Thursday, December 18th 2008 at 8:43AM
You can also
click here to view all posts by this author...