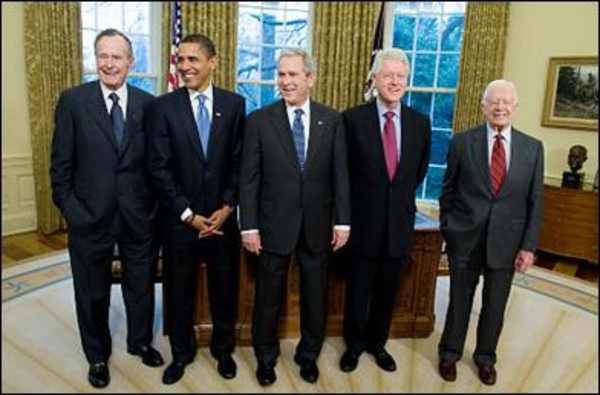 President George W. Bush (c.) stands with President-elect Barack Obama (2nd from l.), and former presidents Bill Clinton, George H.W. Bush and Jimmy Carter at a historic lunch.
Washington, D.C.
-- President-elect Barack Obama convened the most exclusive club in the world Wednesday morning, huddling at the White House for the ultimate power lunch and photo op with the living Presidents.
"All the gentlemen here understand both the pressures and possibilities of this office," Obama said. "For me to have the opportunity to get advice, good counsel and fellowship with these individuals is extraordinary."
The leaders – President Bush, and ex-Presidents George H.W. Bush, Bill Clinton and Jimmy Carter – posed side-by-side with Obama in the Oval Office.
"I just want to thank the president for hosting us," Obama said.
Obama requested the session to discuss ways they can work together to tackle the challenges facing the country, not the least of which is the worsening economy.
"I want to thank the President-elect for joining the ex-Presidents for lunch," Bush said in a slip of the tongue that implied he was no longer the sitting President.
"One message that I have and I think we all share is that we want you to succeed. Whether we're Democrat or Republican we care deeply about this country. And to the extent we can we look forward to sharing our experiences with you," Bush told Obama during a brief photo session.
"All of us who have served in this office understand that the office itself transcends the individual and we wish you all the very best and so does the country," he added.
It was all smiles and friendly chatter, but there was one an uncomfortable moment.
After Bush spoke, his aides tried to shoo the press out of the Oval Office and forced the TV technicians to turn off the lights on their cameras as Obama began speaking. The news crews quickly powered back up.
Clinton, who did not address the cameras, commented to Bush 43 that he loved the light brown rug in the Oval Office, which was designed by First Lady Laura Bush.
The five leaders then retreated to the private dining room in the White House for their lunch. There was no pre-set menu, they ordered a la carte from the White House mess, an aide said
Posted By: Minister Celeste Kelley
Thursday, January 8th 2009 at 3:17PM
You can also
click here to view all posts by this author...