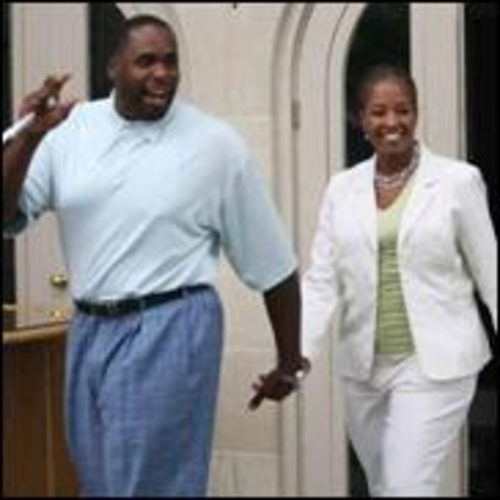 Southlake, Dallas
-- The wife of Detroit's embattled former mayor said she is happy that her family is getting a new start in the affluent north Dallas suburb of Southlake and hopes her husband will soon be able to join them.
"I feel so wonderfully blessed ... to have the opportunity to move somewhere and start again," Carlita Kilpatrick said in a telephone interview with The Dallas Morning News that was published Sunday. "And to be happy. And to be enveloped and welcomed by a community with such open arms.
"I wish that people who needed a new start could have the same experience that I'm having."
She's trying to rebuild her life after her husband, former Detroit Mayor Kwame Kilpatrick (shown in picture with Carlita), resigned in September and later served 99 days in jail after pleading guilty to obstruction of justice and no contest on an assault charge.
Kwame Kilpatrick and his ex-chief of staff, Christine Beatty, admitted to lying on the stand during a 2007 whistle-blowers' trial about having a romantic relationship and their roles in the firing of a police official.
Kwame Kilpatrick later was charged separately with assault following an altercation with a Wayne County prosecutor's office investigator trying to serve a subpoena on an acquaintance.
Beatty was sentenced to 120 days in jail.
The former mayor, who is serving five years' probation and owes Detroit $1 million in restitution - $26,000 of which has been paid - needs court approval to leave Michigan. He has accepted a job as an account executive with Covisint, a subsidiary of computer services provider Compuware Corp.
Prosecutors want Kwame Kilpatrick to substitute the $3,000 monthly rent being paid on the Southlake home for court-ordered restitution. A hearing is set for Tuesday to determine whether he can travel to Dallas for job training.
"I'm ready to start anew," said Carlita Kilpatrick, 38, who moved to Southlake with the couple's three boys in December. She hopes her husband can join them soon.
Until then, she is focused on settling into her rented 2,800-square-foot home in a quiet neighborhood about 25 miles northwest of Dallas. She's the self-described mommy taxi, shuttling her sons to practices and games. The boys are enrolled in the Southlake Carroll school district - twins Jelani and Jalil in the seventh grade, Jonas in the second.
Carlita Kilpatrick said her sons are settling into school and have made friends. Teachers, principals and parents have also been supportive.
She figures people around town know about her husband's history, but nobody has said anything to her. She hasn't noticed any whispering, glances or glares.
"Nobody here cares about whatever has happened," she said. "Everybody is: 'You all are people, you're human. ... We want to make sure that you all are doing OK.'"
She's found a church, The Potter's House in Dallas' Mountain Creek area, where she worships every week. She has begun studying at the Art Institute of Dallas to pursue a passion for interior design.
Carlita Kilpatrick said it's hard to put into words what she's been through.
"I don't at all feel like I'm an anomaly," she said. "I know there are many women who have had to deal with things like me, or worse. It's never like I've done something above and beyond what somebody else has done. It's just that my pain was in the paper.
"Other women get to deal with stuff anonymously and secretively where they don't have to endure some of the embarrassment or just the infamy of it all."
Carlita Kilpatrick said the move to Texas doesn't mean her family is angry or resents Detroit. It's about healing for her family.
She hopes to visit friends and supporters back in Detroit. For now, though, another Big D is proving irresistible.
"I couldn't imagine picking up and leaving any time soon," she said.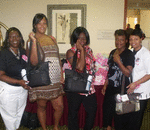 Posted By: The SISTAHS Ministry
Tuesday, February 24th 2009 at 9:01AM
You can also
click here to view all posts by this author...