By Mark Hyman
Barack Obama is now the President of the United States, the most powerful individual on the face of the planet. Can we now agree that racism is essentially a thing of the past?
Obviously, prejudice based on skin color has not been completely eliminated. Vestiges of racism still exist just as there are still cases of polio even though the disease has nearly been eradicated.
Nonetheless, Obama's success is not isolated. There are other black Americans who have succeeded quite nicely in a predominately white America.
Maggie Williams, at one time the highest-ranking black woman in the top-50 public relations firm Fenton Communications, served in several capacities with Hillary Clinton, first as the then-first lady's chief of staff and then as Clinton's 2008 presidential campaign manager.
Eight years earlier, the Democratic presidential campaign manager was Donna Brazile.
Today's GOP chairman is Michael Steele.
Until last month, the secretary of state was Condoleezza Rice. Previously, she was the national security adviser; before that, the provost of the prestigious Stanford University.
Rice's predecessor as the nation's No. 1 diplomat was Colin Powell who rose to become an Army four-star general and the youngest chairman of the Joint Chiefs of Staff with a stop along the way as the national security adviser to President Ronald Reagan.
Alphonso Jackson and Roderick Paige recently served in the George Bush Cabinet.
Perhaps the most successful television performer in the history of the medium is Oprah Winfrey. She also happens to be one of the world's richest women.
Among today's most successful comedians are Whoopi Goldberg, Chris Rock, and Dave Chappelle. Forty-year entertainer Bill Cosby commands statesman-like respect.
Widely syndicated newspaper columnists include Clarence Page, Shelby Steele, Walter Williams, and Thomas Sowell.
National Public Radio's Juan Williams is a cable-news regular. Clarence Thomas is a Supreme Court Justice. Dr. Ben Carson is a world-renowned pediatric neurosurgeon. Maya Angelou is a best-selling author and poet.
The opposing coaches in Super Bowl XLI were both African-American: Chicago's Lovey Smith and Tony Dungy of Indianapolis.
The wildly popular golfer, playing in a sport frequented by very few minorities, is Tiger Woods. He is en route to lifetime earnings of $1 billion, most of it earned by endorsing products purchased primarily by whites.
Merchandise sales are definitely one measure of popularity, and the top five in NBA jersey sales in 2008 were Kobe Bryant, Kevin Garnett, LeBron James, Chris Paul, and Allen Iverson.
Americans head to the cinema in droves, making blockbusters of movies directed by Spike Lee or starring actors such as Denzel Washington, Will Smith, Samuel L. Jackson and Morgan Freeman.
Record mogul Russell Simmons produces CDs by black recording artists that sell by the millions, making both Simmons and the artists incredibly wealthy.
Robert Johnson owns Black Entertainment Television, a successful cable TV network.
Cathy Hughes (in photo) owns a string of 70 radio stations and the cable and satellite channel TV One.
Linda Johnson Rice is chairman and CEO of Johnson Publishing, owner of magazines, and a leader in cosmetics and fashions.
The governor of New York, the third most populous state, is David Paterson.
Jesse Jackson and Al Sharpton command immediate national media attention whenever they want to air a grievance.
Vernon Jordan is a close friend and confidante of President Bill Clinton and he sits on countless corporate boards, earning himself millions.
Clarence Otis Jr. is the CEO of the Fortune 500 company Darden Restaurants, owner of Red Lobster and Olive Garden restaurants.
Until he retired last year, Richard Parsons was the longtime CEO of media giant Time Warner.
Before he stepped down over the lingering credit crunch, Stanley O'Neal headed Wall Street finance giant Merrill Lynch. Ronald Williams and Kenneth Chenault are the CEOs of Aetna and American Express, respectively. Twenty-three year old Ephren Taylor became one of the nation's youngest CEOs of a publicly traded company when he rose to the top job at City Capital Corporation two years ago.
Equal employment and housing laws are hallmarks of society. Home ownership for black households increased from just over 40 percent in 1990 to nearly 50 percent today, the recent subprime mortgage crisis notwithstanding.
The evidence indicates there is little blacks cannot accomplish. The barriers are no different than those faced by others. Of course, America can, and should, do better on the subject of race relations.
Consider the arrest a few months ago of a pair of skinheads who allegedly were going to embark on a killing spree targeting more than 100 victims while dressed in top hats and white tuxedoes. Admittedly, these accusations seem far-fetched.
Then there is the Rev. Jeremiah Wright of Chicago's Trinity Church. His published books and sermons reveal he is a bona fide bigot who preaches an anti-white, black liberation theology.
There is also Louis Farrakhan, the Black Muslim leader who not only despises everything white but is also a raging anti-Semite, to boot. So, racism still exists in some quarters.
Individuals and organizations that have prospered from sounding the alarm over racism are not about to claim it is over. In fact, we can probably expect them to alert us that society is only steps away from lawns full of burning crosses, tree limbs brimming with nooses, and the government enforcing Jim Crow laws. Reasonable people know better.
The reality is that racism is not over but, society has come along way toward virtually wiping it out.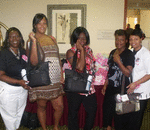 Posted By: The SISTAHS Ministry
Wednesday, March 4th 2009 at 12:43PM
You can also
click here to view all posts by this author...