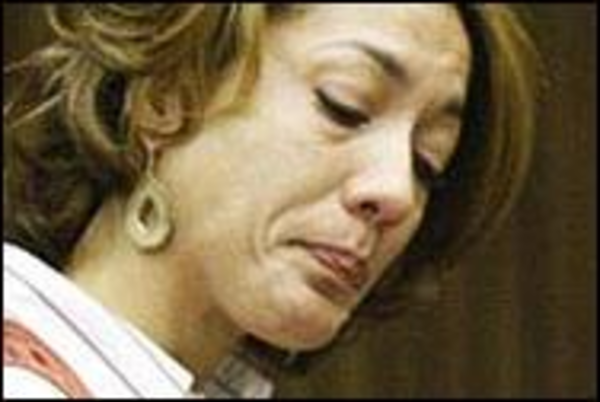 Christine Beatty had been one of the most powerful women in Detroit city government.
Hard-nosed in contract negotiations with the city's unions and on other personnel matters, Beatty was zealous in carrying out the orders of her mayor and one-time lover Kwame Kilpatrick.
About 12:10 a.m. Monday, accompanied by her pastor, attorney and others, she joined him in freedom, serving 69 days of a jail sentence for obstruction of justice.
"I'm just anxious to go home and see my children," she said after walking out of the jail. "I'm very happy and I'm ready to go home."
Unlike the former Democratic mayor, Beatty's future is uncertain.
While Kilpatrick seemingly has landed on his feet with a six-figure sales job in the Dallas area with Compuware Corp. subsidiary Covisint, Beatty's attorney, Mayer Morganroth, said late Sunday outside the jail that the 38-year-old mother of two girls does not have a job lined up.
Beatty must serve the next five years on probation, cannot attend law school during that time and must pay the city $100,000 in restitution as part of her guilty plea in December.
If she continues to live in the Detroit area, Beatty likely will carry with her the shame of the affair with Kilpatrick made public in s*xually explicit text messages the two shared in 2002 and 2003.
The Detroit Free Press published the first excerpts of the messages in January 2008 from Beatty's city-issued pager. The communications revealed a torrid extramarital affair, confessions of love, promises of betrothal and nights of passion and lust.
The texts also contradicted testimony Beatty and Kilpatrick gave during a 2007 whistle-blowers' trial when they denied having a relationship and lied about their roles in the firing of a police official.
Following a short investigation, Wayne County Prosecutor Kym Worthy charged each in March 2008 with perjury, misconduct and obstruction of justice.
Beatty, a high school friend of Kilpatrick at Cass Tech in Detroit, had resigned that February. But the embarrassment for both continued to mount last spring and summer after the release of more text messages and details of backdoor negotiating that led to an $8.4 million settlement of the whistle-blowers' suit.
"In case you haven't noticed, I am madly in love with you too!" Beatty texted Kilpatrick on Oct. 3, 2002. "More and more everyday! I can't believe how much more it grows. Is there a limit? Kilpatrick responded "Not till death do us part."
"Wow! I'll buy that," Beatty wrote in her reply.
At the time, both were married. Beatty and husband, Lou Beatty, later divorced. Kilpatrick and his wife are still together.
Beatty -- except for court appearances -- slipped from the public eye last year.
Kilpatrick, attempting to hold onto his job as mayor, remained a public figure, promising to be vindicated until finally pleading guilty in September to two counts of obstruction of justice and no contest to assault. As part of his pleas, Kilpatrick stepped down as mayor about two weeks later and lost his law license.
He was sentenced last October to four months in jail, but was released in early February after 99 days.
Kilpatrick has started making payments on $1 million in restitution to the city. His wife and sons already have moved to Southlake, Texas, an affluent suburb outside Dallas. Texas officials have approved transferring his probation to that state.
Beatty was sentenced in January to four months in the county jail. To get out early, Beatty took part in a jail work program where she folded sheets, towels and other linen.
She testified Friday before Wayne County Circuit Court Judge Timothy Kenny that she understood the work would chop off time from her sentence. Beatty later learned that despite doing the chores, her release date would be in mid-April instead of mid-March.
But Kenny sided with Beatty and ordered Monday's release because of the work program and good-behavior credits.
Her early morning release was far different than that of Kilpatrick, who once outside the jail, was surrounded by a number of bodyguards and ushered into a waiting Chevy Suburban before driving away in a caravan of sport utility vehicles.
Kilpatrick waved and smiled, but made no statements to reporters.
With her pastor, the Rev. Ronald Griffin, close by, Beatty did stop and spoke with about a dozen reporters and several dozen onlookers and acquaintances for half a minute.
Many in the crowd applauded as she walked out the jail doors. Beatty said her two daughters were not told she would be coming home Monday.
"It's a surprise for my kids," said Beatty, who added she would "probably just cry" at the reunion.
Surrounded by friends, Beatty then was led to a waiting van and driven away.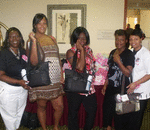 Posted By: The SISTAHS Ministry
Thursday, March 19th 2009 at 9:48AM
You can also
click here to view all posts by this author...