Richmond, VA
-- Multi-media-journalist, radio and television talk show hostess and news anchor, Sheilah Belle (a.k.a. The Belle), can now be heard on the airwaves throughout the seven cities of Hampton Roads (Hampton, Suffolk, Chesapeake, Newport News, Portsmouth, Virginia Beach and Norfolk, VA) on 105.3 KISS, WKUS-FM.
"Radio is not like it used to be especially if you're talking FM 50,000 watt radio stations," says Belle, who is currently heard on radio stations in Richmond and Greensboro. "To feel even a little bit secure these days, you need to be holding down at least three radio stations with a heavy presence over the airwaves."
On Thursdays, Belle's "The Belle Report" can be heard on Cedric Bailey's radio show on Rejoice! Musical Soulfood, a nationally-syndicated network with 45 affiliates. On Saturdays, The Report also airs on the network's "On Stage with Earl Bynum" program.
The Belle is also a savvy businesswoman. "There are some people who only know me for my work on radio," Belle explains. "However when they find out about The Belle Report, the PR and Consultant company LaBelle & Associates, they take a double look at me. Also, there are many who are familiar with me through The Belle Report and The Gospel Times newspaper. When they find out I do radio, they immediately ask which one are you on, which often leaves me struggling for words, because of just how many radio stations I am on."
The Belle, who was also inducted into the Broadcasters Hall of Fame in 2005 and is often called a media mogul says, "I've only just begun."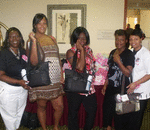 Posted By: The SISTAHS Ministry
Tuesday, March 24th 2009 at 4:07PM
You can also
click here to view all posts by this author...